Enhancing Compliance and Efficiency with Structured Content Authoring
In the fast-paced and highly regulated pharmaceutical industry, the efficient management of labeling and regulatory submissions is crucial for ensuring compliance, patient safety, and the fast and successful market entry of innovative drugs. However, this process comes with its fair share of challenges. From navigating Chemistry, Manufacturing, and Controls (CMC) regulatory requirements to addressing global labeling and clinical labeling use cases, pharmaceutical companies face complex hurdles in meeting regulatory standards while improving their speed to market. This leaves many highly regulated life science organizations to wonder – is it possible to increase speed while increasing compliance?

Streamlined Outputs in Template Format
In such dynamic environments, the ability to efficiently author regulatory submission documents is paramount. Manual authoring processes and output generation procedures lead to inefficiencies, errors, and compliance risks. This is where AI-powered structured content authoring systems provide invaluable benefits. By leveraging natural language processing (NLP) and natural language generation (NLG) capabilities, these systems extract and structure information from various sources, such as regulatory information management systems and other data repositories.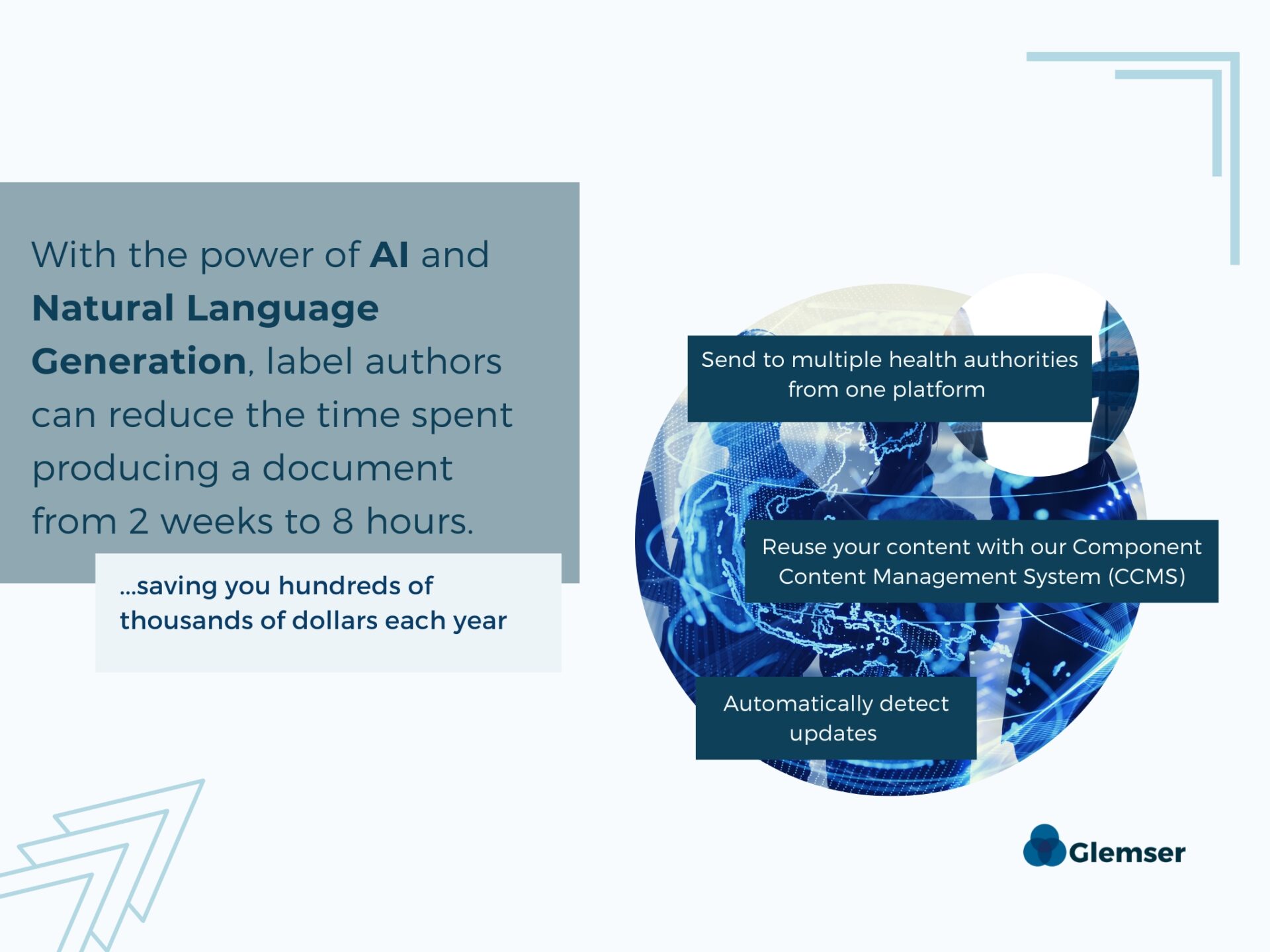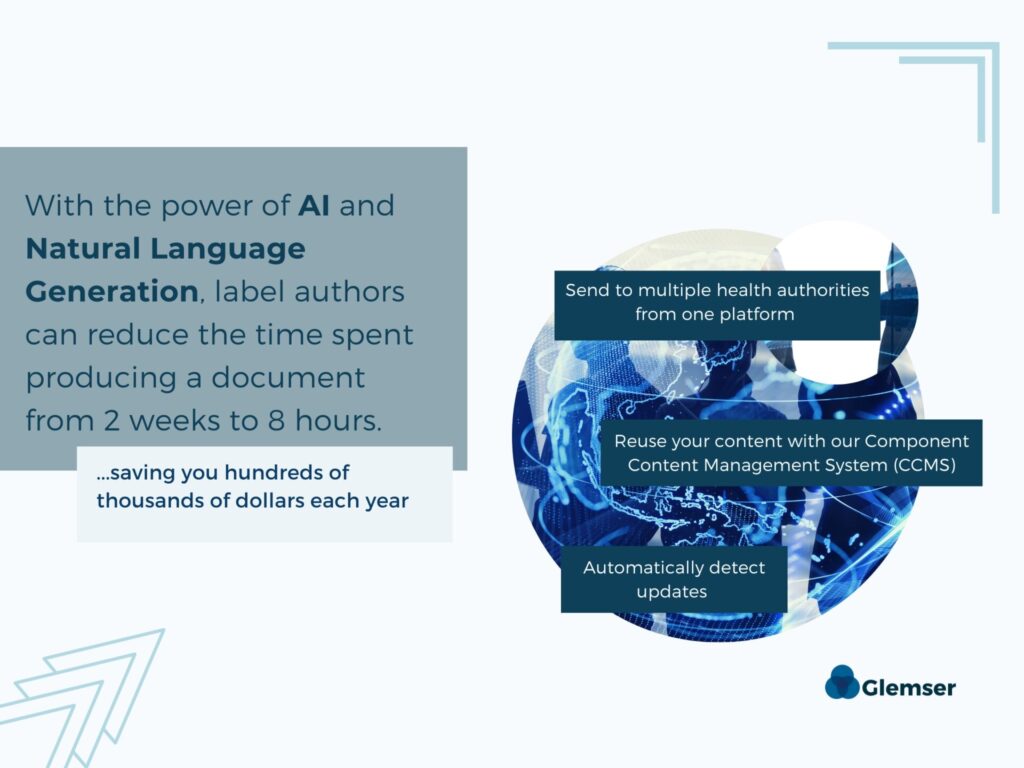 The advantage of AI-powered structured content authoring for life sciences is the out-of-the-box availability of honed processes and workflows, coupled with 30+ preconfigured outputs that allow organizations to seamlessly move from legacy documents to componentized data to complete outputs. These industry outputs pull data from a repository of stored components, enabling the reuse of valuable information gathered through NLP. With this capability, pharmaceutical companies can leverage automation to effortlessly extract unstructured content from regulatory information management (RIM) systems, Core Data Sheets, and other existing documents, storing them as components for submission across multiple outputs. This eliminates the need to recreate each document from scratch, reduces reliance on manual work across multiple teams and geographies, and minimizes the risk of error. As a result, it empowers you to work faster without exposing a deeply honed workflow to unnecessary risk.
This seamless integration is made possible through the utilization of a leading Component Content Management System (CCMS), which serves as a centralized component repository. Within this system, verified components that adhere to internal business guidelines in an agency and output-agnostic database can be effortlessly located and retrieved. As a result, users shift their focus from building documents with tedious copy, pasting, building tables, and graphs and can focus on valuable work authoring documents, all through a familiar and proficient user interface they already know and love, Microsoft Word.
Empowering Global Expansion and Regulatory Compliance
The expansion of pharmaceutical companies into new markets and the introduction of new products bring unique challenges for regulatory submissions and labeling. The FDA's Project Orbis is a prime example of this aspect's importance.
Project Orbis, initiated by the FDA's Oncology Center of Excellence, is a collaborative effort among international regulatory agencies to expedite the review and approval of cancer treatments. Through this program, multiple health authorities from seven different countries work together to review and approve new therapies simultaneously. This approach significantly reduces the time required to bring innovative cancer treatments to patients worldwide.
By streamlining the process of document creation and leveraging the power of automation and stored components, pharmaceutical companies can quickly produce labels that are tailored to each individual health authority. The automated reuse of information enhances efficiency and ensures consistency and compliance across each submission. With reduced complexities and enhanced productivity, companies can navigate global expansion more effectively and swiftly bring their innovative therapies to patients in need.

Case Study: Transforming Compliance and Content Automation
In its pursuit of excellence, a world-leading pharmaceutical company has taken significant strides in enhancing its legal and regulatory compliance through the adoption of ComplianceAuthor AI™, built on the Quark Publishing Platform. Leveraging the power of structured authoring the company has achieved remarkable outcomes, including effortless content reuse s. By replacing their existing relational database management system (RDBMS) with ComplianceAuthor AI™, the company has seamlessly implemented format requirements, paving the way for smooth compliance and content automation processes.
The collaborative synergy of ComplianceAuthor AI™, an omnichannel publishing tool, has provided the company with a comprehensive content automation solution, tailored to meet their specific requirements. By storing data as components in a centralized content repository, these solutions enable effortless content reuse for publication, accommodating various formatting requirements effortlessly.
Benefits and Results:
Improved compliance: The company achieves higher compliance levels through structured authoring and standard adherence.
Reduced training: The familiar MS Word interface requires minimal training and has allowed employees to quickly adapt to the new system, saving valuable time and resources.
Streamlined document management: The XML-based document management system has simplified the implementation of health authority format requirements, enhancing the efficiency of document submissions and approvals.
Enhanced content reuse: By storing content as structured text blocks in a central CCMS repository, the company can effortlessly reuse and repurpose content for different health authority requirements, ensuring consistency across regulatory submissions.

Leveraging Structured Content Authoring for Competitive Advantage
Innovation is notoriously difficult in hyper-regulated environments. ComplianceAuthor AI™ was built using commercially available systems precisely because its familiarity allows our clients to work faster without exposing a critical workflow to unnecessary risk. ComplianceAuthor™ isn't just technology, it comes with deeply honed and proven workflows and processes that provide benefits across patient safety, innovation, scientific discovery, and increased profitability. By staying at the forefront of industry transformation, companies can make significant strides in advancing healthcare and profoundly impacting global well-being.
Leveraging stored components and structured content authoring enables life science companies to eliminate redundant tasks, reduce manual errors, and streamline document creation across geographies and markets. These efficiency gains translate into significant time and cost savings, allowing companies to allocate resources more strategically to continue innovating.
Structured content authoring using components is rapidly evolving. By seizing the opportunity of this innovative approach, pharmaceutical companies can position themselves as industry leaders, driving positive change and revolutionizing healthcare. The advantages of faster time-to-market, improved regulatory compliance, enhanced efficiency, and the ability to make substantial investments in research and development further solidify the competitive advantage. As pioneers in leveraging advanced software solutions, these companies unlock opportunities for groundbreaking discoveries, novel therapies, and ultimately, a brighter future for patients worldwide.