Using AI to Improve Clarity and Readability of Drug Labels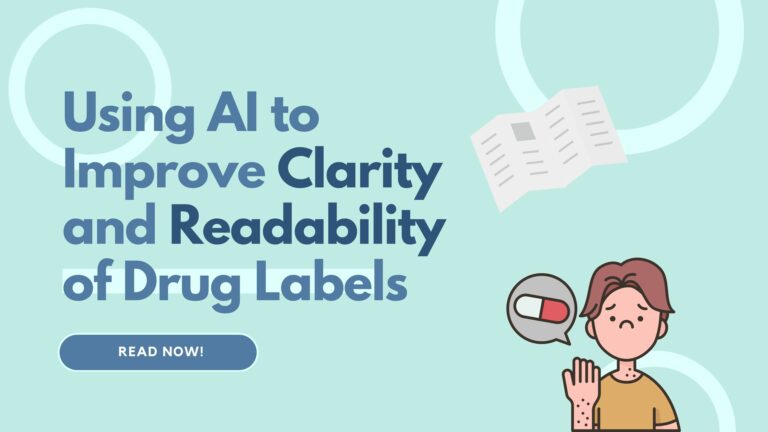 The readability of pharmaceutical labels is a growing problem, particularly in regions with aging populations where drug consumption is growing rapidly (to the tune of a 3-6% CAGR).[1] In the United States, for example, drug labels have been criticized for being overly complex and difficult to read; each year, over a million Americans experience a health problem because they don't take their medicine as their doctor intended.[2]Trained Artificial Intelligence can help pharmaceutical companies improve the overall clarity and readability of drug labels by using natural language processing and generative AI to transform label sentences and sections into language that is both easy to understand and makes sense for any given local label geography or language.
SIDEBAR|| SAMPLE COMPLIANCEAUTHOR® AI WORKFLOW FOR IMPROVING LABEL READABILITY

 

Workflow Step

User

Automated

1

Crawl labeling ecosystem to understand content and context of data

 

X

2

Process unstructured data and convert to structured data

 

X

3

Search NLP database for keywords, phrases, images, videos, etc.

X

X

4

Recrawl data and recognize changes to data at the source and recommend next best action

 
 

5

Transform and translate unstructured data into language narrative for local label geography

 

X

6

Review language narratives for accuracy and select narrative

X

 
Label Readability
Each year, an estimated 90 million adults in the United States misunderstand prescription drug labels or have trouble following their directions.[3] According to Dr. Joanne Schwartzberg, a member of USP's Nomenclature, Safety and Labeling Expert Committee, "So many people make mistakes when taking their medicines. Many mistakes result from dosing directions. For example: patients may read 'Take two pills twice daily,' and believe it means to 'take two pills a day,' rather than the intended instruction to take a total of four pills."[4] Studies also show that consumers find drug names (generic vs. brand name) to be confusing, and words like "indications," "precautions," and "contraindications" contained within many labels to be difficult to understand. This lack of clarity can cause patients to not take the medication at all, take it to treat a different illness or symptom than the one it was prescribed to treat, or take an incorrect dose, which can have unintended health consequences that range from minor irritations to antibody-dependent enhancements to death.
To make information easier to understand, language on a label should: (a) be simple, clear, concise, and familiar; (b) use standardized terms to promote understanding through consistent language; and (c) be provided in the patient's preferred language whenever possible. Glemser's ComplianceAuthor® AI can help with all three. ComplianceAuthor AI™'s unique natural language models and generative AI capabilities produce a powerful solution that can transform label data into sentences and sections that are both easy to understand and make sense for any given local label geography or language.
Develop Standardized Terms
The first step in making pharmaceutical labels easier to read and understand is to use simple, standardized language. At Glemser, we feed ComplianceAuthor® AI information to inform it of the reading comprehension level (i.e., 8th grade level[5]) at which it should be generating label content. Then, to identify appropriate labeling terms and phrases at the specified comprehension level, ComplianceAuthor® AI crawls existing pharmaceutical data repositories and RIM systems using natural language processing to classify data as either structured or unstructured, aggregate repositories and file shares, and extract text to gain insight into data and context. By overlaying a pharmaceutical company's existing labeling ecosystem, ComplianceAuthor® AI can harmonize metadata, properties, and attributes and store them as controlled, compliant components. These controlled components can then be used to create a library of words and phrases that are automatically applied in the label creation and translation processes. Approved labeling documents are indexed based on keywords and phrases. Keywords and phrases are in turn indexed based on their usage count in documents. Labeling teams can then select and mark certain phrases (i.e., those that are simple and easy to understand) as recommended phrases to be applied to future labels with higher priority. In addition to crawling data to create phrase libraries, ComplianceAuthor® AI can create a large language model out of customer data, behind their firewall, to automatically generate recommended language at the specified reading comprehension levels for review. When used in conjunction with phrase libraries, this natural language generation capability can help pharmaceutical companies develop labels that are more easily understandable by their target audience.
Translate
It is also critically important that pharmaceutical labels reflect the local regulatory requirements and language in the geographies in which the drug is sold. If the label is in the wrong language, uses incorrect translations, fails to include key regulatory language, or leverages unfamiliar words and phrases communication between patients and physicians, adherence levels, clinical outcomes, and patient safety could be negatively impacted. At most pharmaceutical companies today, the process of generating labels across multiple geographies into the correct format and language is very manual. For example, since there is only one core data sheet per drug, the CCDS often does not include the proper regulatory language that is required in one or more geographies. Even if the CCDS did include regulatory language, it is likely that it would only work for a select geography. Thus, pharmaceutical companies spend countless hours and millions of dollars each year on manually transforming these documents into local label formats. At Glemser, we have a capability called intelligent sentence generation to identify CCDS sections and automatically transform them into the approved regulatory language for any given geography. To avoid issues associated with literally translating CCDS from English to other languages, ComplianceAuthor® AI specifically leverages a translation engine that searches repositories in multiple languages, with a specific eye toward cultural context, and returns results in the new language. Label translations are then reviewed and approved by translators or native speakers.
Generate Simple, Familiar Language
In addition to using the ComplianceAuthor® AI intelligent translation engine, pharmaceutical companies can harness the power of the tool's generative AI capability to transform label language into sentences and sections that are simple, clear, concise, and familiar. For example, because language differs across cultures and geographies, breastfeeding/lactation/nursing mother warnings should appear differently depending on where the local label is distributed. To develop these various warnings, among other pharmaceutical labeling components, ComplianceAuthor® AI has the capability to create a large language model behind a client firewall that will leverage crawled client-only label content and approved phrase libraries to generate appropriate sentences in an instant. These outputs provide guidelines for improvement and standardization, which are then reviewed and approved by a "human in the loop" who understands culture, context, and compliance and can ensure labels meet current evolving cultural and health authority requirements in each of the local label geographies. Broadly speaking, this enables content authors to develop label language that is familiar to patients in the given geography, increasing compliance and patient safety.
Looking Forward
Digital transformation enabled by AI is affecting virtually every aspect of the pharmaceutical value chain and is bringing us closer to a future that is defined by radically interoperable data and consumer-driven health care. The natural language processing and generation capabilities that underlie ComplianceAuthor® AI have the power to help pharmaceutical companies create health authority-approved, patient-specific labels. By leveraging AI behind the firewall in a secure manner, ComplianceAuthor® AI can advance Life Sciences organizations by using automation to improve time to market while reducing the amount of time it takes to author, edit, and submit a label for approval.
[1] Global Medicine Spending and Usage Trends: Outlook to 2025 – IQVIA
[2] Do You Find Prescription Labels Hard to Read? You Are Not Alone | Quality Matters | U.S. Pharmacopeia Blog (usp.org)
[3] Do You Find Prescription Labels Hard to Read? You Are Not Alone | Quality Matters | U.S. Pharmacopeia Blog (usp.org)
[4] USP is an independent, scientific nonprofit organization focused on building trust in the supply of safe, quality medicines.
[5] The average American reads at the 7th- to 8th-grade level per data collected by the Organization for Economic Cooperation and Development